DAVID'S VINTAGE SNOWMOBILE PAGE.
RESTORING THE SPORT ONE PIECE AT A TIME.
PAGE 21,286
---
SEARS SOLD SNOWMOBILES THAT WERE PRODUCED BY LARGE SNOWMMOBILE
COMPANIES LIKE ( TRAIL A SLED - SCORPION ), OMC, POLARIS AND SKI DADDLER.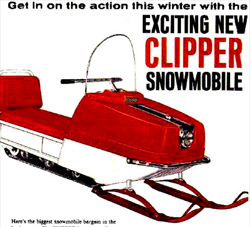 1966 / 1967 CLIPPER SNOWMOBILE - BUILT BY AMF SKI DADDLER.
SEARS SNOWMOBILE HISTORY UPDATE
NOTE:
I WAS TOLD MANY TIMES THAT THE CLIPPER OR SNO CLIPPER WAS
SOLD IN SEARS STORES IN THE USA BUT I CANNOT FIND ANY ADS,
OR SEARS CATALOGUES SHOWING A SEARS CLIPPER SNOWMOBILE.
FOR THE 1966 MODEL YEAR, SEARS WAS ALREADY SELLING SCORPION
SNOWMOBILES UNDER THE NAME OF SEARS SNOWCRUISER SO IT
DOES NOT MAKE SENSE THAT SEARS WOULD SELL 2 BRANDS BUT
I AM NOT 100 % SURE OF THIS INFORMATION.
---
2 TIMES A YEAR, I TAKE A WEEK TO GO THROUGH OLD NEWSPAPER ADS AND
TRY TO FIGURE OUT SNOWMOBILE HISTORY FOR A CERTAIN BRAND.
SEARS SNOWMOBILES ARE COMPLICATED. THE 1966 - 1971 MODEL YEARS HAVE
GIVEN ME PROBLEMS SO I DECIDED TO DIG DEEPER AND SEE WHAT I CAN FIND.
ADDING TO THE PROBLEM IS SEARS, LIKE SEVERAL DEPARTMENT STORES,
BOUGHT OUT UNSOLD SNOWMOBILES FROM BIG SNOWMOBILE COMPANIES AT
GREAT DISCOUNTS. SEARS THEN SOLD THESE SLEDS FOR MANY YEARS UNTIL
THEY WERE ALL GONE. THEY OFFERED THEM IN THE CATALOG OR IN NEWSPAPER
ADS WITHOUT PRINTING THE MODEL YEAR.
NOW YOU HAVE TO WONDER IF THEY WERE EXAMPLE: 1969,
1970, 1971. IN SOME CASES, YOU SEE THE SAME ADS IN DIFFERENT YEARS BUT
THEY NOW HAVE DIFFERENT MOTORS SIZES. THEY MAY HAVE SIGNED AN
AGREEMENT WITH SOME COMPANIES AND SPECIFIED THAT WE WILL TAKE SOME
SLEDS EVERY YEAR BUT YOU HAVE TO UPDATE THE MOTOR SIZES EACH YEAR.
SOME TIMES, I HAVE OPENED THE DOOR ON CERTAIN BRANDS AND HAVE FOUND
THAT WHAT WAS THOUGHT TO BE THE CORRECT HISTORY WAS NOT RIGHT.
I AM NOT 100 % SURE OF THE INFORMATION FOR SEARS BUT I AM GOING TO
PRESENT MANY NEW ADS THAT WILL AT LEAST LET YOU SEE SEARS IN A
DIFFERENT LIGHT AND MAY CORRECT SOME PROBLEMS WITH THE CORRECT YEAR.
IN PARTICULAR, I AM HAVING A LOT OF TROUBLE WITH THE 1969 - 1971 SEARS
MODEL 309 CC WHICH WAS MADE BY OMC FOR SEARS. THE DECALS ON THE
1969 SEARS MODEL 309 CC MODEL HAVE BUGGED ME FOR YEARS AND NOW
OVER THE NEXT FEW DAYS, I WILL SHOW YOU SOME ADS AND ASK QUESTIONS.
I TRY ON MY SITE TO OFFER THE CORRECT DATES FOR ALL YEARS OF SLEDS.
I WANT PEOPLE TO HAVE THE BEST INFORMATION AVAILABLE.
IT IS NOT EASY WITH SEARS.
OVER THE NEXT SEVERAL DAYS, I WILL BE UPDATING MY
SEARS SECTION ON THE BROCHURE PAGES.
HERE ARE SOME OF THE SNOWMOBILES THAT SEARS OFFERED OVER THE YEARS.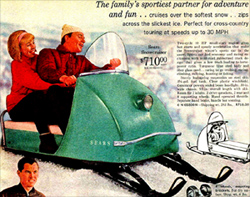 1966 SEARS SNOWCRUISER - BUILT BY TRAIL A SLED, SCORPION
SOLD IN CERTAIN REGIONS IN THE USA FOR THE 1966 MODEL YEAR.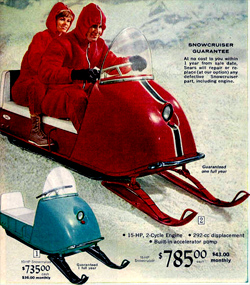 1967 SEARS SNOWCRUISER - BUILT BY TRAIL A SLED, SCORPION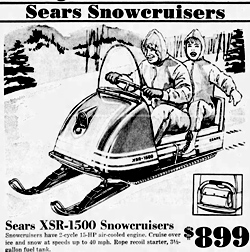 1968 SEARS XSR-1500 SNOWCRUISER - BUILT BY TRAIL A SLED, SCORPION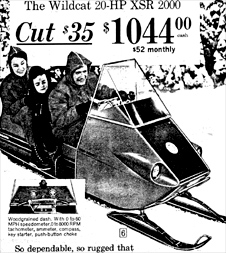 1968 SEARS WILDCAT XSR-2000 - BUILT BY TRADE WINDS ( OMC )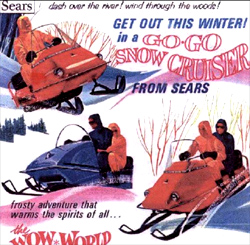 1969 SEARS MODEL 309 AND HILLARY 399 CC SNOWMOBILES - BUILT BY OMC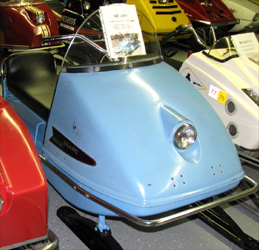 SEARS MODEL 309 CC BUILT BY OMC
THIS MAY BE A 1969, 1970 OR 1971 SEARS 309 CC.
ADS WILL FOLLOW IN THE DAYS AHEAD TO PROVIDE A NEW POINT OF VIEW.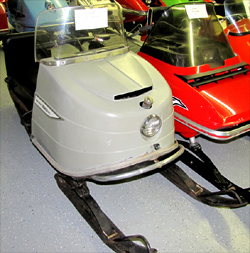 1970 OR 1971 SEARS 223 SNOWMOBILE - BUILT BY AMF SKI DADDLER
ADS WILL FOLLOW IN THE DAYS AHEAD.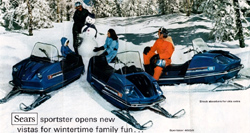 1972 SEARS SPORTSTER SNOWMOBILES BUILT BY POLARIS