DAVID'S VINTAGE SNOWMOBILE PAGE.
RESTORING THE SPORT ONE PIECE AT A TIME.
PAGE 21,565
---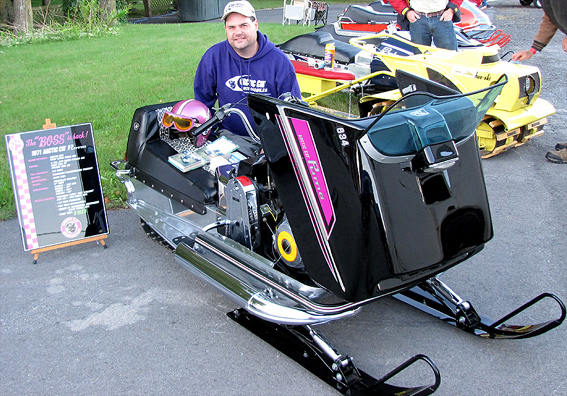 1971 ARCTIC CAT PUMA 634 SNOWMOBILE

Hi again David!
Please find enclosed attachments of some of the old pics taken during the
restoration of our 1971 Arctic Cat Puma 634 (1999-2001).
Some background / history below: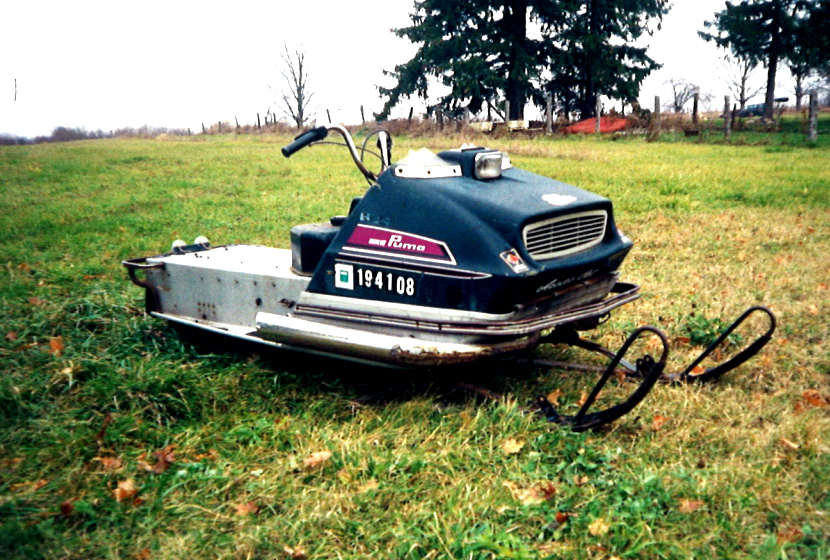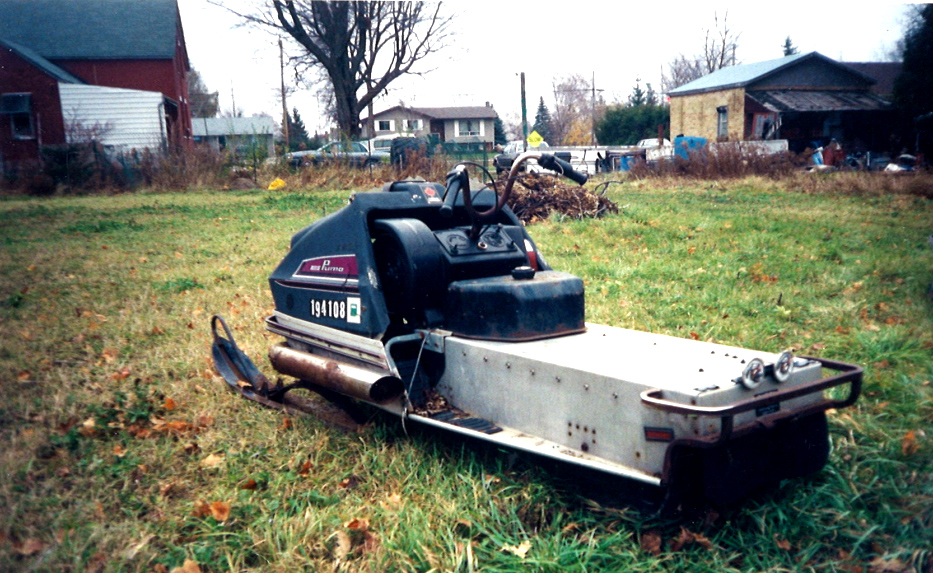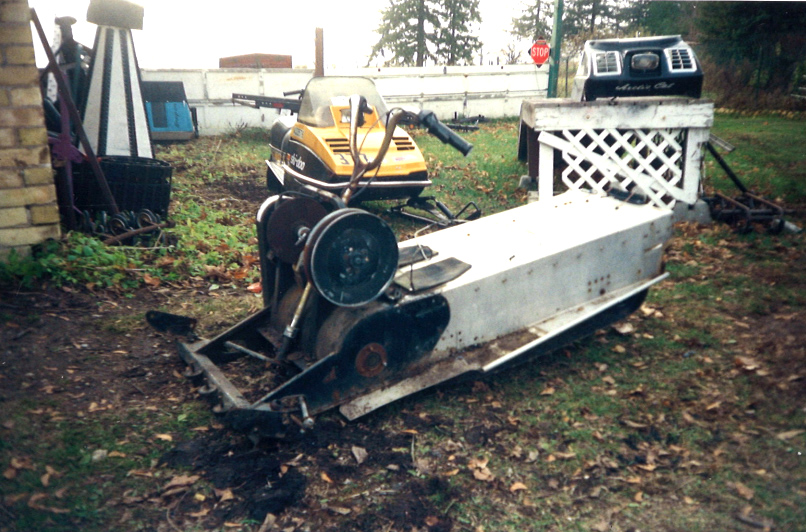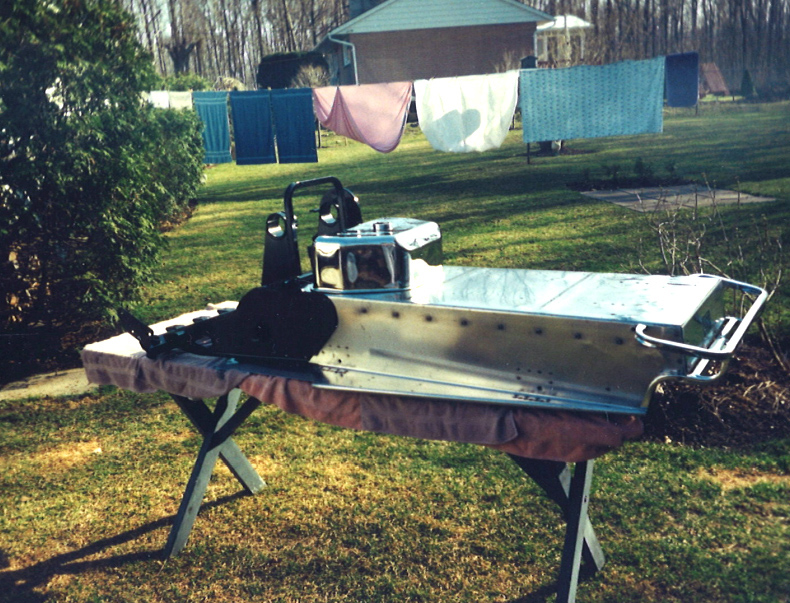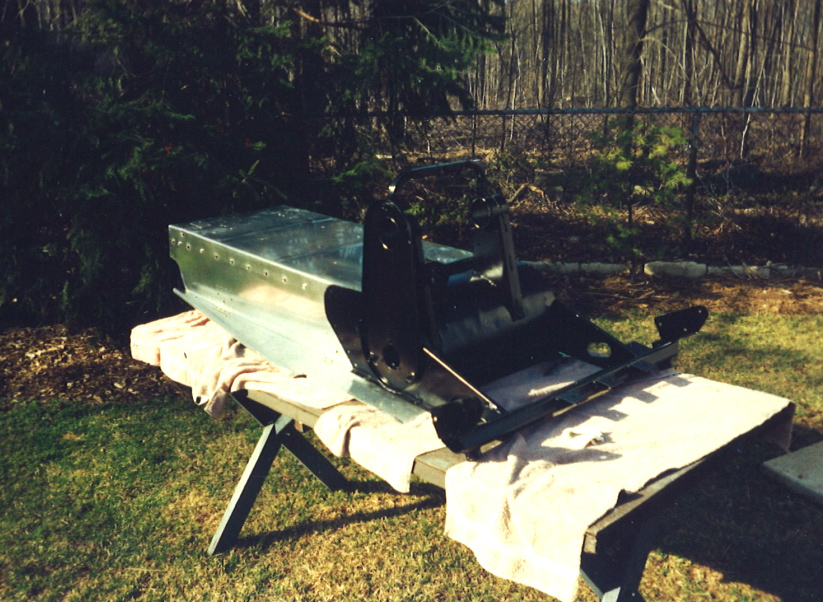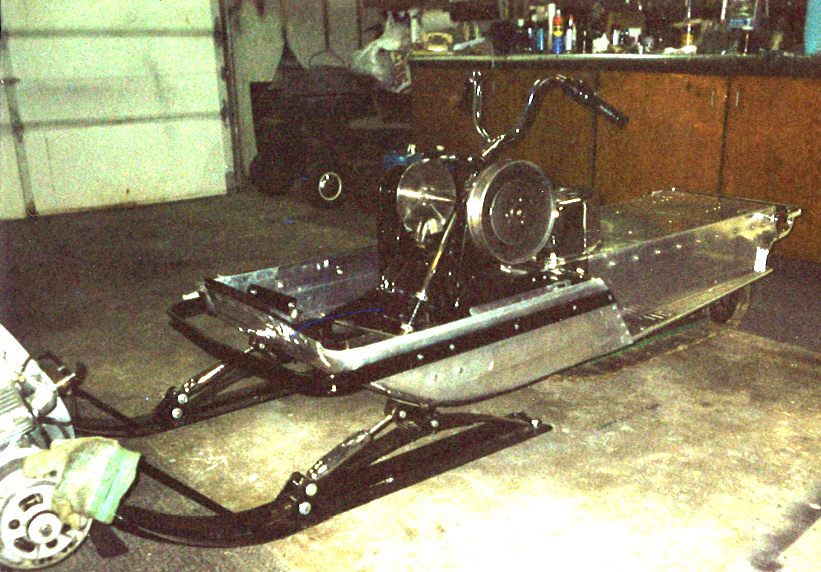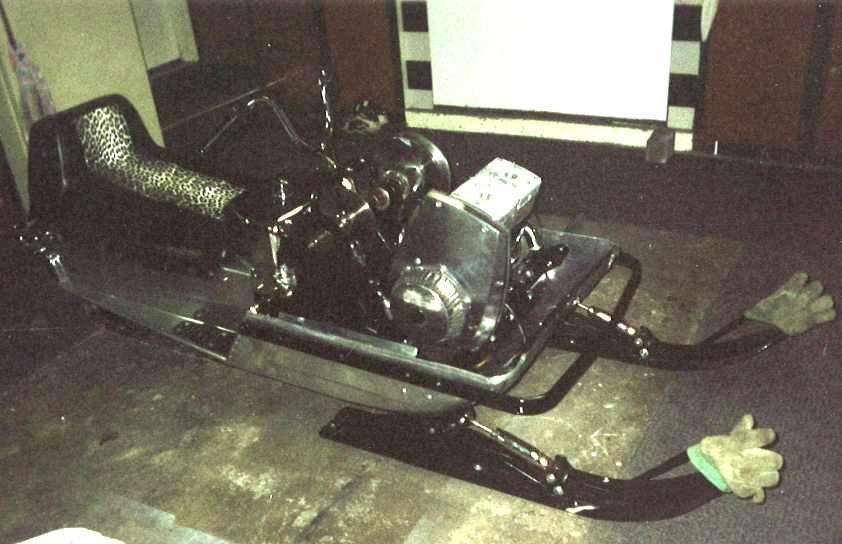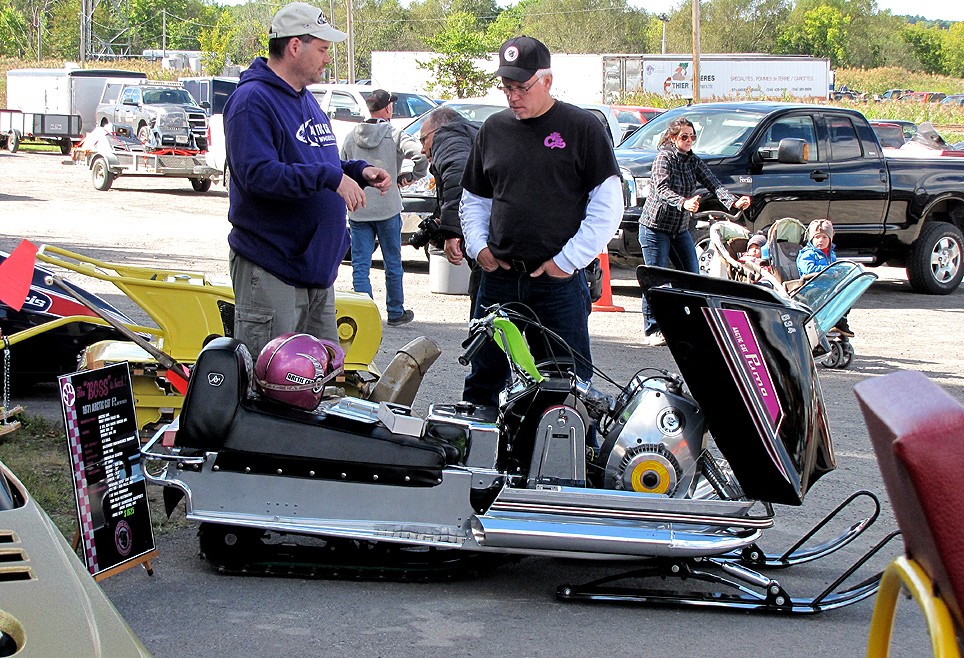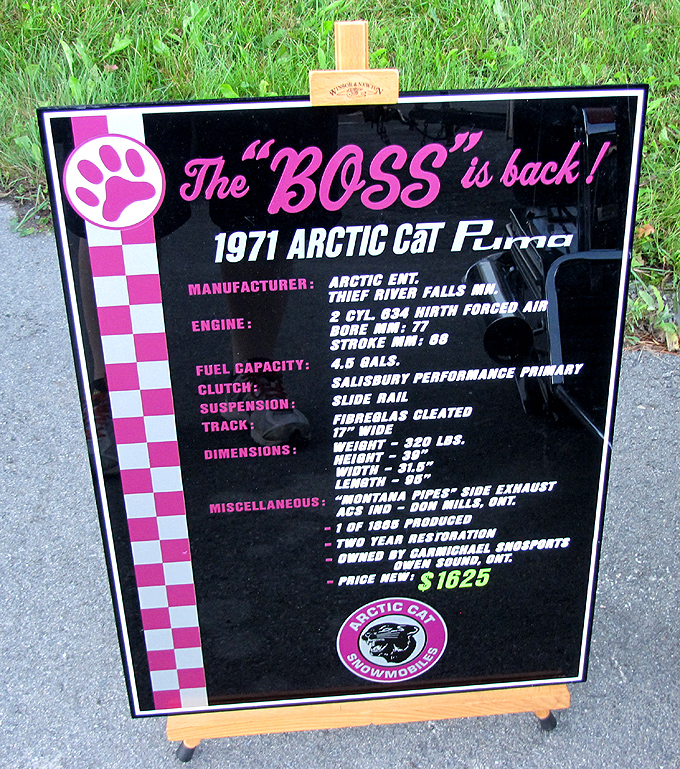 Dad and I were on the lookout for a "Piped Cat" since 1989, after I first heard stories one
evening after the conclusion of the Georgian Cup snowmobile races here in Owen Sound.
I was in Grade 10 at the time, and was memorized by my father's explanation of such a
machine, while friends were visiting our home. I thought it would be neat to see if such a
machine could be located. Dad knew of one machine, a 1970 760 Panther with the Montana
Pipes which had originally been for sale new here in Owen Sound back in the fall of 1970.
It was advertised as an Arctic Cat "King Kat".
With no pictures for reference and having not been born at that time, I began searching for the
wrong machine - a King Kat! Eventually things began to get straightened out, and I was on my way to
secure what became better known as a "Big Mouth Cat with Montana Pipes".
However, efforts to locate such a machine took many years. I joined the ACSCC, VSCA, as
well as ASCA; but still no machine. It was when Roy Morrison and Bobby Givens began the
Morrison Flats event locally in 1995, that our search to locate a machine began to come
together. We passed the word onto other local enthusiasts. One local collector who was into
Harley Davidson sleds at the time got a lead for us, while at a Harley meet in the fall of 1999.
During social time, he was asked if he would like to have some info about a Harley sled that
was in a field. He asked about some details about the machine, and was informed it was:
"Black, old and has big chrome pipes along each side of the belly pan". He knew then it
wasn't a Harley, but most likely a Big mouth Cat, with the infamous Montana pipes that
Dad and I had been passing word of to our club members. He called me up immediately, and
the machine as you can see in pictures 2 & 3 was in a very sad state left forgotten. Without
hesitation I went to go and see the machine, and I made a offer. Luckily I remembered to
bring a camera that day, and got a few pics. I had no trailer, other than dad's old
station wagon. I didn't even tell him I was borrowing it, or even getting the sled. To make
the machine complete looking, I borrowed a black Cat fuel tank, which the previously owner
wouldn't even sell me to go with the Puma! Our buddy and I then proceeded to partially take
the Puma apart, so that it would fit partially into the station wagon; and I drove the unit
back to my parents that evening.
While I was at work the next morning, my Dad made the discovery of what was in the back of
his station wagon, and was horrified. He knew it was an old Cat; but thought it was actually a
Kitty Cat-wreck. He almost took the thing to the local scrap yard. It was my Mom who came
to the rescue and stopped him as he was about to go out the drive way.
Crisis avoided for now. When I returned home after work, we had a frank discussion; and it
was decided by both of us to see if the machine could be saved.
Restoration proceeded right away in the October of 1999. The machine was completely
dismantled in 1 weekend. Everything was labeled and bagged. There actually wasn't much
that could be saved in the end. Much of the machine was either destroyed, unrepairable, or
even missing. Only 11 original components of the machine could be saved. Not the way one
would like to do a restoration! Dad had worked on many a car in his day and was afraid that
the Puma would in the end either prove too expensive to restore, or wouldn't be able to be
restored. Using the internet at work, many a phone call, and connections through various
vintage clubs and fellow collectors; slowly parts were secured. Sadly the Montana Pipes
could not be restored as the bottom of the sweep sections were completely rotted away.
We decided to go ahead anyway and restore the rest of the machine until something could
be worked out with the exhausts. It was during Christmas of 1999, that Dad made a
connection with ACS who originally made the Montana Pipe exhaust units.
2 employees who had worked there back in the day, believed that parts or portions of these
exhaust units still existed at ACS. They even believed that original draft drawings were still
in existence with the company. The plan was for them to look around during the Christmas
holidays of 1999, and they would get back to us, with what they found.
Sadly they soon discovered that what they believed was still in existence, was sadly just
recently at that time discarded and now lost forever. Back to the drawing board!
Dad and I had most of the machine finished up by the spring of 2001; when I got news of a
fellow collector; a nurse who had a pair of OEM original condition Montana pipes for a
634 Cat, that hadn't been used since the early winter of 1970.
(Yes there is a difference b/w 634 and 760 Montana pipes).
I traveled to Traverse City Michigan to meet the collector, and see if a deal could be made.
I not only was able to secure the pipes at a very fair price, but they also had an all
original 1971 Puma seat for me as well, that needed no work!
The final 2 pieces of the puzzle were now complete.
The Puma was unveiled at the 2001 Morrison Flats Show and Shine.
It was featured on "Classic Sleds 2" with Phil Molto, as well as
Snowmobiler Television during the winter of 2001/2002.
Dad and I have been very fortunate over the years to have the old Cat at many an event and
have enjoyed meeting new friends and sharing a little snowmobile history along the way.
Its hard to believe I located that Puma 17 years ago this Thanksgiving.
How time flies when your having fun!
Doug & Jeff Carmichael / "Carmichael Sno Sports"
CLICK HERE FOR MORE PICTURES OF
THIS SLED AT EXPO SNO 2016.
THANKS DOUG & JEFF FOR THE GREAT PICTURES !