DAVID'S VINTAGE SNOWMOBILE PAGE.
RESTORING THE SPORT ONE PIECE AT A TIME.
PAGE 21,669A
---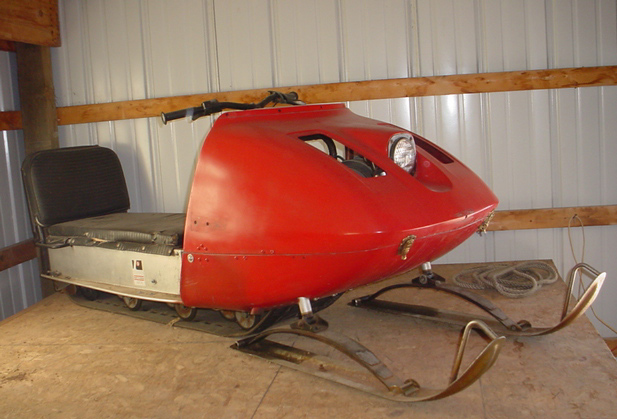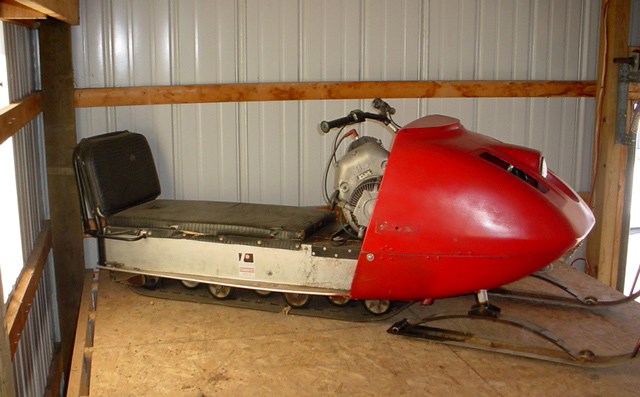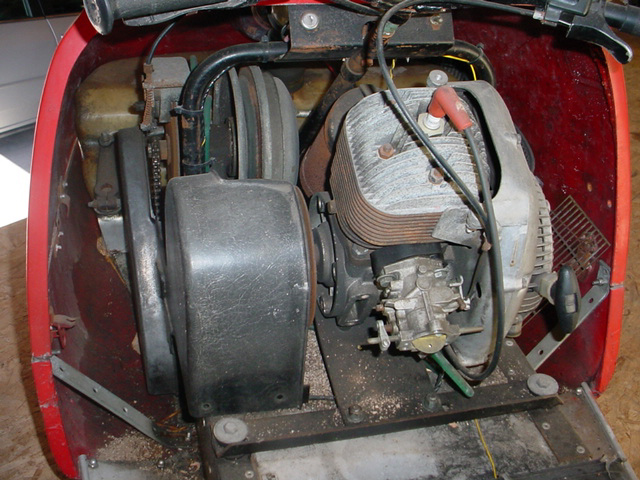 1966 RUPP SNO SPORT
I WAS HAVING TROUBLE FINDING THE DIFFERENCES BETWEEN A
1966 RUPP SNO SPORT AND A 1967 RUPP SNO SPORT SO
I FOUND SOMEONE WHO HAD BOTH.
I CONTACTED JOE KUCHNICKI FOR SOME INFORMATION ON THE RUPP BRAND.
SOME OF THE DIFFERENCES BETWEEN THE 1966 AND 1967 RUPP SNO SPORT ARE...
---
THE 1966 RUPP SNO SPORT HAS A PLEATED SEAT.
SEE TOP 2 PICTURES !
---
TO THE BEST OF JOE'S KNOWLEDGE .......
THE 1967 RUPP SNO SPORT DID NOT HAVE A PLEATED SEAT.
He has never seen a 1967 Rupp Sno Sport with a heat pleated seat.
Please send pictures if you can show otherwise.
---
Hello David
IN THE 3 PICTURES ........
Note that the hood on my sled was cut by a previous owner.
The hood is supposed to be one piece.
Nice to hear from you. Feel free to use those pictures.
Many people are calling 1967 Rupp sno sports 1966 models so I hope these pics will
help people see the difference. Much of the confusion comes from the printed parts
manuals from Rupp. They are not clear and allow folks to come up with wrong
conclusions. I owned both a 1966 and a 1967 rupp sno sport at the same time and can
tell you there are many differences from the seat material (pleated on 66), spindles,
skis, and much more.
You are correct about the metal vents in the hood.
Its real on 1966 rupp sno sport and a decal on 1967 Rupp Sno Sport.
Its notable that it is very similar to metal decal on 63 Corvette hood but smaller.
The 1966 Rupp Sno Sport used a disc brake and the 1967 Rupp Sno Sport used a pad.
Secondary clutches are different.
Let me know what else I can do for you. Stay in touch. Joe
---
THANKS JOE FOR THE GREAT PICTURES !
---
RUPP HAD 3 MODELS FOR 1966 WHICH WERE SS l - SS ll - SS lll
---
RUPP HAD 2 MODELS FOR 1967 WHICH WERE SS 250 AND SS 300
---
David, John McGuirk has a 1967 Rupp Sno Sport and has done much research on them.
John Sent me additional information in this email below. Joe
---
John McGuirk writes:
There are two other major differences between the 1966 and 1967 Rupp Sno Sport.
---
1. The engine on the 1967 is mounted differently with the exhaust coming
out in your lap and the carb on the leading side of the machine.
The head and piston are reversed to make this happen. Only done in 1967.
---
2. There are stiffening loop from the side of the chassis to the foot boards to stiffen the chassis.
You will notice they are not on your 1966 Rupp Sno Sport.
Hopes this helps, John
---
THANKS JOE AND JOHN FOR THIS INFORMATION ! DAVID S.
---
I ALSO FOUND THESE 1966 RUPP SNO SPORT VENTS FOR SALE ON EBAY. DAVID S