DAVID'S VINTAGE SNOWMOBILE PAGE.
RESTORING THE SPORT ONE PIECE AT A TIME.
PAGE 21,850
---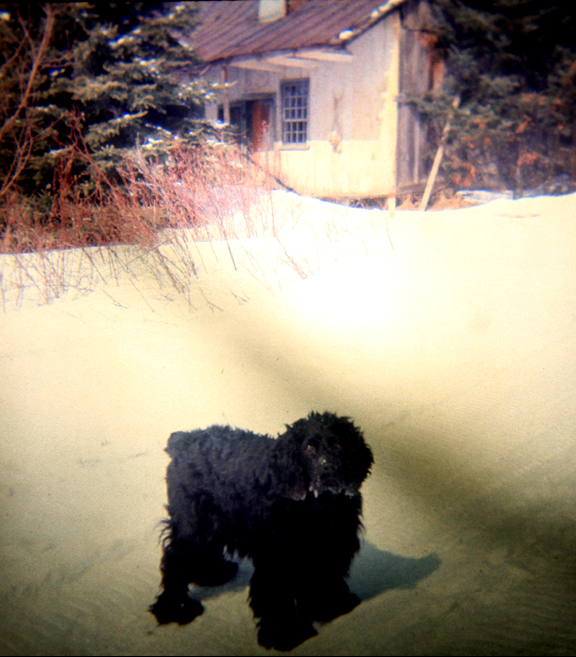 WHY AM I SHOWING YOU A PICTURE OF MY DOG?
I SAW A PICTURE WHICH I AM POSTING DOWN THIS PAGE THAT REMINDED ME OF
SOMETHING I USED TO LOVE TO DO WHEN I WAS A KID. AS YOU CAN SEE, MY DOG IS
STANDING ON SNOWMOBILE TRACKS. EVERY DAY, WHEN I WENT OUTSIDE, I USED
TO LOOK AT THE TRACKS ON THE ROAD AND SEE WHAT BRANDS OF
SNOWMOBILES WENT BY. I JUST LOVED THE FACT THAT YOU COULD READ THE
WORDS OFF THE ROAD OF THE BRAND OF SNOWMOBILE THAT WENT BY OUR HOUSE.
THESE TRACKS WERE CALLED NAME DROPPER TRACKS.
WHEN PEOPLE EMAIL ME, A LOT OF TIMES THEY THANK ME FOR BRINGING BACK SO
MANY MEMORIES JUST BY LOOKING AT THE PICTURES ON MY SITE. AS A
CHRISTMAS GIFT TO YOU, I HOPE THAT THE PICTURE BELOW WILL TRIGGER SOME
GREAT MEMORIES FOR YOU AS WELL.
I SAW THESE PICTURES OF A 1972 SNO JET THAT WAS FOR SALE WITH THE NAME
SNO JET IN THE TRACK AND THIS IS WHAT TRIGGERED MY GREAT MEMORIES OF MY
DOG, THE GREAT TIMES I SPENT OUTDOORS AND MY FANTASTIC DAYS OF RIDING
MY SNOWMOBILE. MERRY CHRISTMAS. DAVID S.