DAVID'S VINTAGE SNOWMOBILE PAGE.
RESTORING THE SPORT ONE PIECE AT A TIME.
PAGE 22,023A
---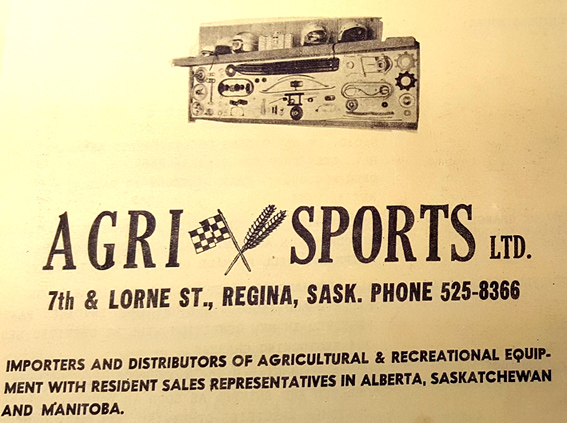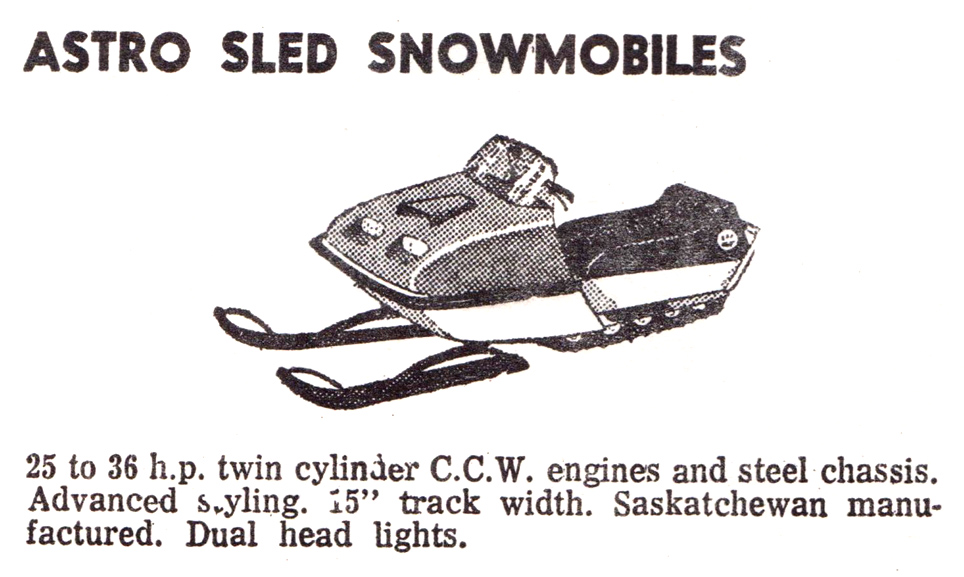 1971 ASTRO SNOWMOBILE
HERE IS A VERY RARE SNOWMOBILE AND THE STORY BEHIND IT.
IT IS IN AN AD THAT SHOWS SKI BEE AND ASTRO SNOWMOBILES.
SEE FULL PAGE AD BELOW.
GORD GOT THE INFO THAT WE NEEDED. THANKS GORD.
YOU FOUND A PIECE OF SNOWMOBILE HISTORY.
Good Morning David. Here's the story. I talked to Terry Fay this morning. He was in charge of snowmobiles
for Agri Sports. The company was started in 1969 to sell short line farm equipment and parts. It was a
partnership of Larry Fay, Terry Fay and Mike Bishop.They had the Ingham and Mel-Cam machinery lines
represented. When Ingham ceased production in 1970, Mel-Cam industries of Imperial Saskatchewan
bought all of the old inventory. That included a bunch of Ski-Bee parts, tunnels (he said 50 to 60) etc.
Agri Sports bought the snowmobile inventory.
The Astro Sled was created from the parts bin and was built in their shop.
They were trying to be a snowmobile manufacturer. That sled was the only one built, made it into the
advertising book and that was the end of the dream. The rest of the tunnels and parts were sold to other
dealers and were made into racers, runners, etc.
Agri Sports then took on the Alouette snowmobile brand to sell direct to the public.
This is how a connection was made to purchase Big Al . Big Al was more promotional than substance and
was placed on 4 steel posts to advertise for them. It was so neat to talk to him. He was so enthusiastic about
those days of sledding.
Hi David. I just got off the phone with Terry Fay. We had a good chat. There is no known photo of the
Astro Sled as far as he remembers. He is going to check back at the dealership to see if anything shows up.
They have my email and phone number as contacts.
Maybe with a little luck, something might surface. Gord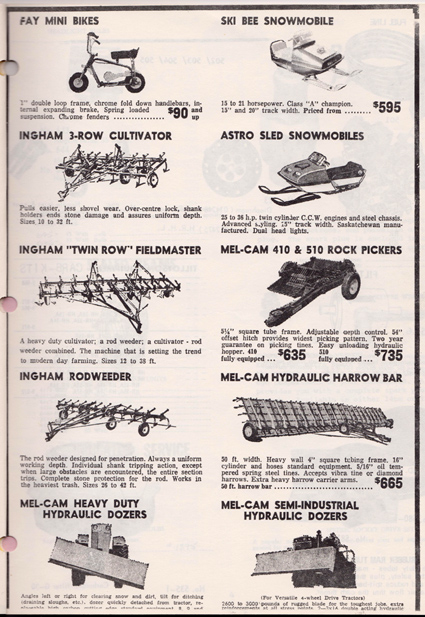 Hi David. I have some printed info.
I didn't see these exact items on your site. Great Job by the way.
So well done. Thanks -- Gord Simmons, Sask.
THANKS GORD FOR THE GREAT PICTURES !