DAVID'S VINTAGE SNOWMOBILE PAGE.
RESTORING THE SPORT ONE PIECE AT A TIME.
PAGE 22,098A
---
MARCH 15, 2017
15 YEAR ANNIVERSARY
DAVID'S VINTAGE SNOWMOBILE PAGE
---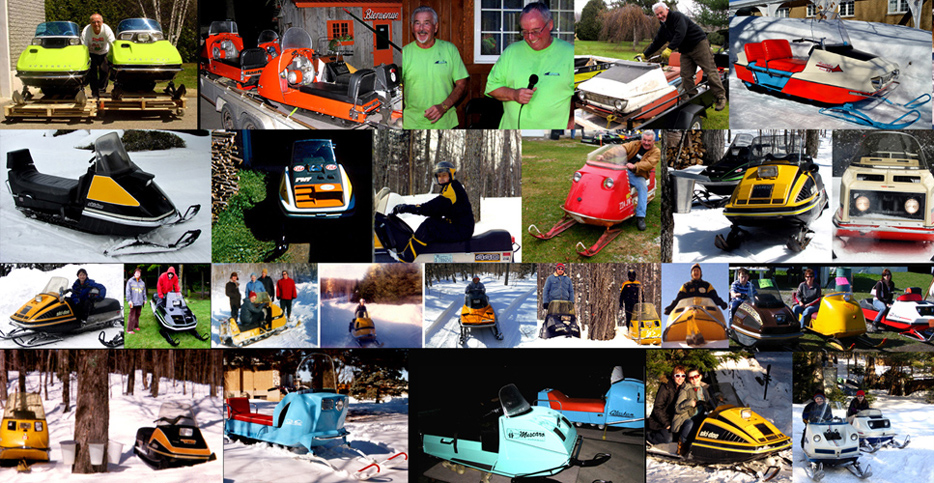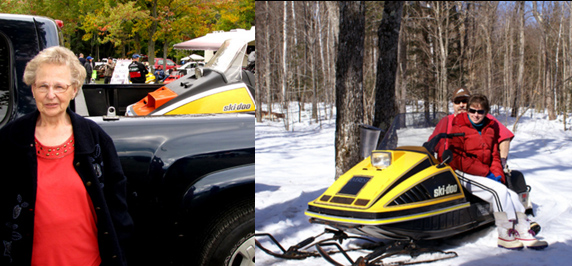 MY MOTHER AND MY WIFE. TOP SUPPORTERS OF MY SITE !!!!!

PICTURE OF ED STABB AT MY FAVORITE VINTAGE SNOWMOBILE SHOW IN BOONVILLE NY.
15 YEARS AGO TODAY, I STARTED MY SITE WITH THE HOPE OF PROVIDING BROCHURES FOR
MANY BRANDS OF VINTAGE SNOWMOBILES. 15 YEARS LATER, I AM STILL FINDING NEW
VINTAGE SNOWMOBILE BROCHURES AND ADDING THEM TO THE BROCHURE PAGES FOR EVERYONE
TO ENJOY. OVER THE YEARS, I RECEIVED THOUSANDS OF EMAILS SAYING THE PICTURES AND
VINTAGE SNOWMOBILE BROCHURES BROUGHT BACK THOUSANDS OF GREAT MEMORIES.
I RECEIVED EMAILS FROM ALL AROUND THE WORLD WHICH HAS BEEN A SPECIAL FEELING FOR
ME TO KNOW THAT PEOPLE ARE FINDING THE SITE USEFUL TO IDENTIFY SLEDS OR JUST HAVE
A FEW MINUTES EVERY DAY TO RELAX AND DO SOMETHING FUN.
I HAVE MET SO MANY WONDERFUL PEOPLE OVER THE YEARS THROUGH THIS SPORT.
ABOVE ARE SOME OF THE SLEDS THAT I HAVE OWNED ALONG WITH A FEW PICTURES OF
GERMAIN BEAUSÉJOUR AND ANDY TAYLOR WHO ARE GREAT FRIENDS AND
ALSO RUN EXPO SNO VINTAGE SNOWMOBILE SHOW IN ST JEROME, QUEBEC EVERY FALL.
ALSO IN THE PICTURES ARE MY WIFE, DAUGHTER, SON, MOTHER AND BROTHERS.
I HOPE YOU ENJOY THIS SPECIAL 15 YEAR EVENT THAT I HAVE CREATED FOR YOU. DAVID S.