DAVID'S VINTAGE SNOWMOBILE PAGE.
RESTORING THE SPORT ONE PIECE AT A TIME.
PAGE 23,065D
---
The Minnesota summer snowmobile shows are over. It's unique, but in Minnesota they
started late summer "grass drag" racing and it caught on. The manufacturers in the late
1960's and early 1970's had no spring "snow check" ability to pre-order a sled in the off
season. There were no magazines to advertise pre-production sled trials out west in the
mountains like what happens today. The net result is that in those days you went to the
grass drags to find the machine you were about to purchase. These previews drove
sales. As an example of this legacy, I attended the 51st year of the
Snow Barons HAY DAYS grass drags this weekend.
In Minnesota there are two such late summer events --- PRINCETON and HAY DAYS.
Thankfully, the sponsors and organizations want to promote the antique/vintage/classic class sleds that we demonstrate. They allow us to attend at no cost if we show off our
old iron. Free admission and an early chance at the parts swappers is enough to attract
us like flies. Here is what I demonstrated this year: Valdi Stefanson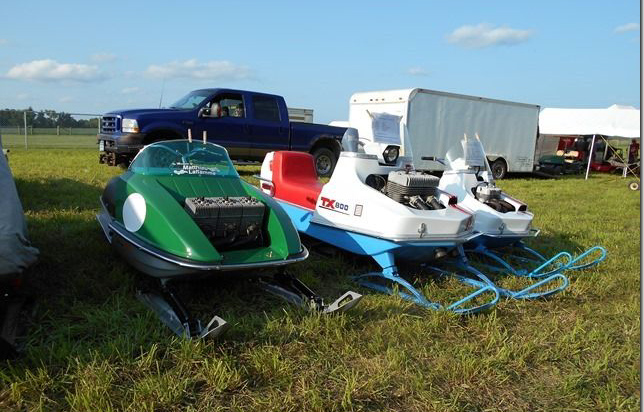 PRINCETON:
1971 Ski Roule RTX 800 racer (Hirth Honker triple engine)
1970 Polaris TX 800 COLT (megaphone exhaust)
1970 aluminum Playmate racer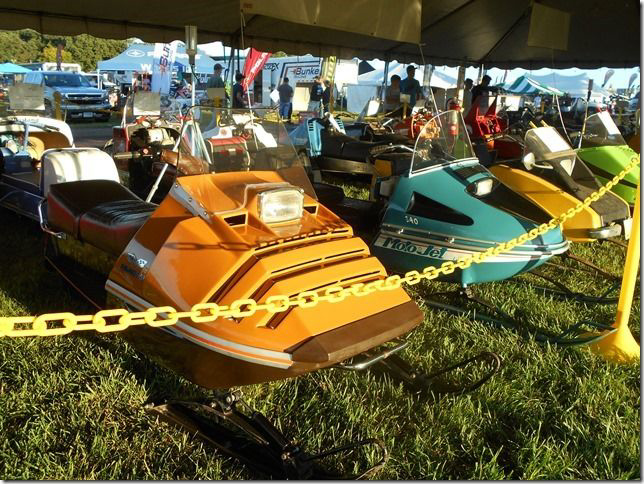 HAY DAYS:
"BUTTERSCOTCH" is a last year (1977) Boa Ski in "all brown" attire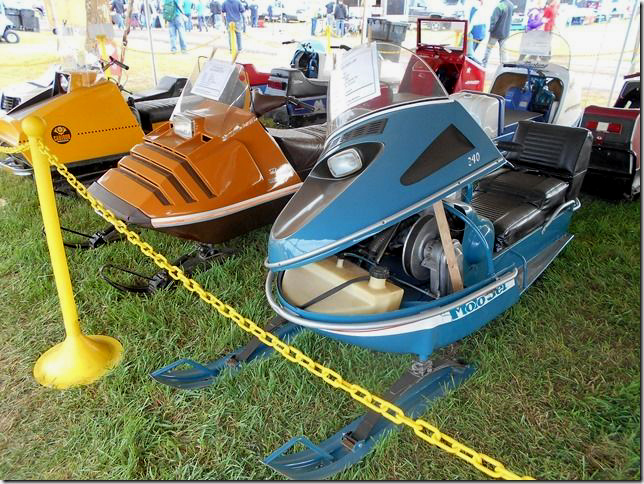 The blue sled is a 1972 MOTO-JET, made in Quebec.
Notable because of it's sideways opening hood and "King-Queen" seating.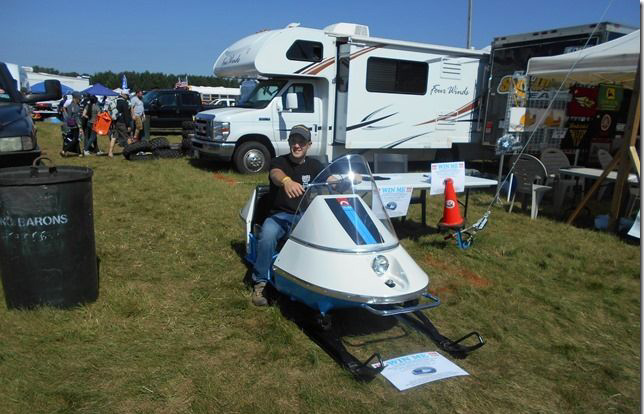 Selling raffle tickets for the Antique Club.
A $ 5 ticket to win a 1969 RUSTLER – made in St Maries, Ontario, Canada.
THANKS VALDI FOR THE GREAT PICTURES !