DAVID'S VINTAGE SNOWMOBILE PAGE.
RESTORING THE SPORT ONE PIECE AT A TIME.
PAGE 23,070
---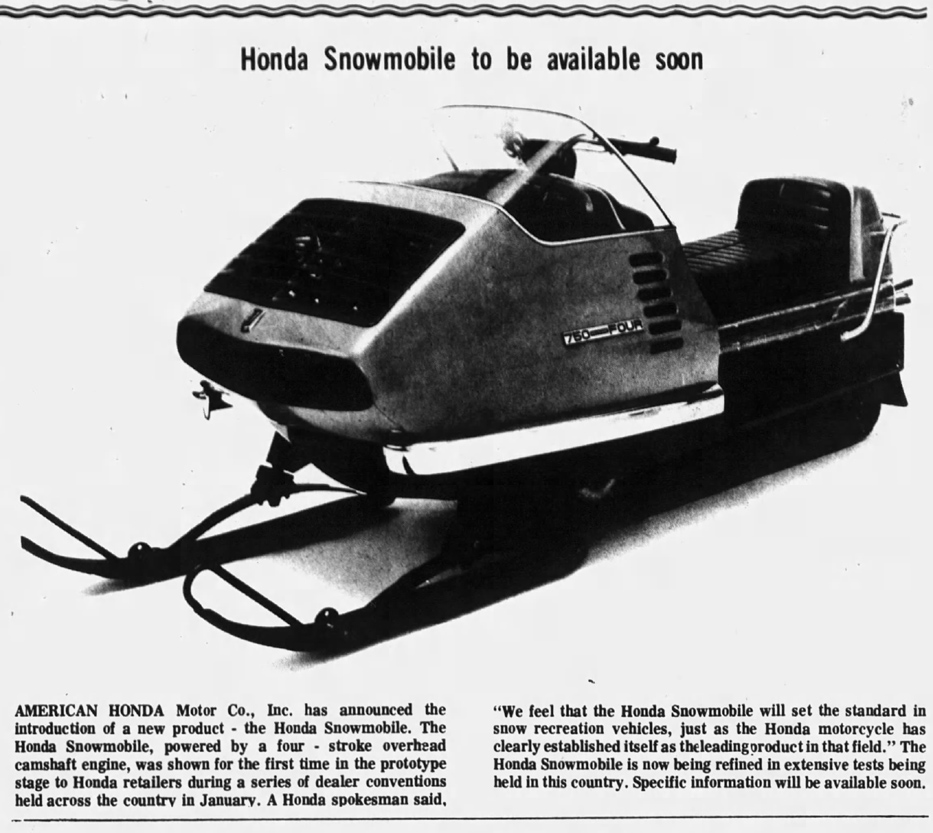 BE SURE TO READ THIS INFORMATION BELOW AS I CAME
ACROSS HISTORICAL INFORMATION THAT I NEVER KNEW.
1971 HONDA 4 STROKE 750 CC SNOWMOBILE
THIS NEWSPAPER ARTICLE IS FROM FEBRUARY 4, 1971.
THAT MEANS THIS INFORMATION WAS GATHERED EARLIER AND PUT IN THIS 1971 NEWSPAPER.
THERE IS A LOT OF INFORMATION ABOUT THIS HONDA 750 4 STROKE SNOWMOBILE AND A
LOT OF IT IS DIFFERENT ON THE INTERNET AND IN VINTAGE SNOWMOBILE MAGAZINES.
I HAVE BEEN TOLD MANY TIMES THAT THIS 1971 HONDA 4 STROKE 750 CC SNOWMOBILE WAS
SHOWN TO HONDA DEALERS IN THE USA IN FEBRUARY 1971 AND THAT IT WAS A
CONCEPT IDEA BUT IT WENT NO FURTHER THAN THAT.
IF YOU READ THE INFORMATION IN THIS NEWSPAPER,
IT SAYS THAT THE HONDA SNOWMOBILE WAS PRESENTED TO HONDA DEALERS ACROSS THE USA
IN JANUARY 1971 AND NOT FEBRUARY 1971.
THEN IT SAYS, IT IS NOW BEING REFINED IN EXTENSIVE TESTS BEING HELD IN THE USA.
IF THIS WAS THE CASE, IT WAS MORE THAN A CONCEPT IDEA AND THE SLED WAS PRODUCED
IN NUMBERS THAT WOULD ALLOW DEALERS TO TRY THEM OUT AND WRITE REPORTS ON THIS SLED.
I CAME ACROSS A VERY INTERESTING NEWSPAPER ARTICLE SAYING THAT HUNDREDS OF THESE
1971 HONDA 4 STROKE SNOWMOBILES WERE PRODUCED AND WERE ON A CARGO SHIP HEADED
TO THE USA. GO TO THE NEXT PAGE AND READ THE ARTICLE FROM FEBRUARY 1971.