DAVID'S VINTAGE SNOWMOBILE PAGE.
RESTORING THE SPORT ONE PIECE AT A TIME.
PAGE 25,080
SCROLL DOWN TO SEE
SOME FISHING PICTURES !

---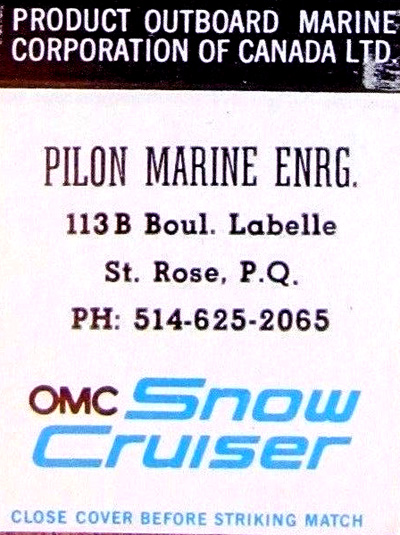 OMC SNOW CRUISER SNOWMOBILE MATCHBOOK
PILON MARINE IN ST ROSE QUEBEC SOLD
SNOW CRUISER SNOWMOBILES.
THEY WERE A JOHNSON DEALER AND IN THE FALL OF 1971 THEY CHANGED TO
JOHNSON SNOWMOBILES FOR THE 1972 MODELS AS SNOW CRUISER WAS
NO LONGER AVAILABLE. OMC HAD DISCONTINUED THE SNOW CRUISER LINE AND
NOW EVINRUDE DEALERS OR JOHNSON DEALERS IN CANADA WOULD NOW CARRY THE
SAME SNOWMOBILES THAT WERE SOLD IN THE USA BY OMC.
I USED TO STOP OFTEN AND SEE MR AND MRS. PILON AT THE STORE.
THEIR STAFF WAS ALWAYS GREAT. FRANÇOIS IN PARTS WAS ALWAYS VERY HELPFUL.
I REMEMBER SEEING THE 1974 JOHNSON JX650 ON THE SHOWROOM FLOOR AND
THINKING WHAT AN AWESOME LOOKING SLED.
WE BOUGHT MANY OUTBOARDS AND BOATS FROM THEM IN THE 1970'S AND 80'S.
BELOW IS A PICTURE OF THE WHITE GRUMMAN BOAT MY BROTHER BOUGHT FROM THEM
WITH A 40 HP JOHNSON VRO OUTBOARD MOTOR. DAVID S.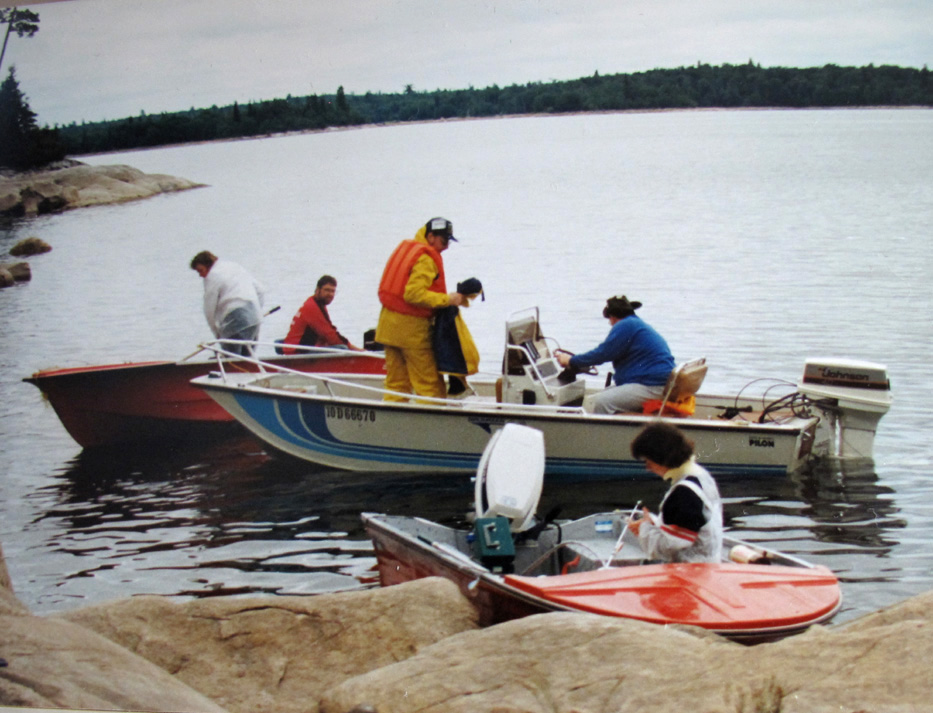 MY 2 BROTHERS IN THE WHITE BOAT BOUGHT AT PILON MARINE.
MY WIFE IN THE FRONT BOAT.
MY FRIENDS IN THE RED BOAT IN THE BACK.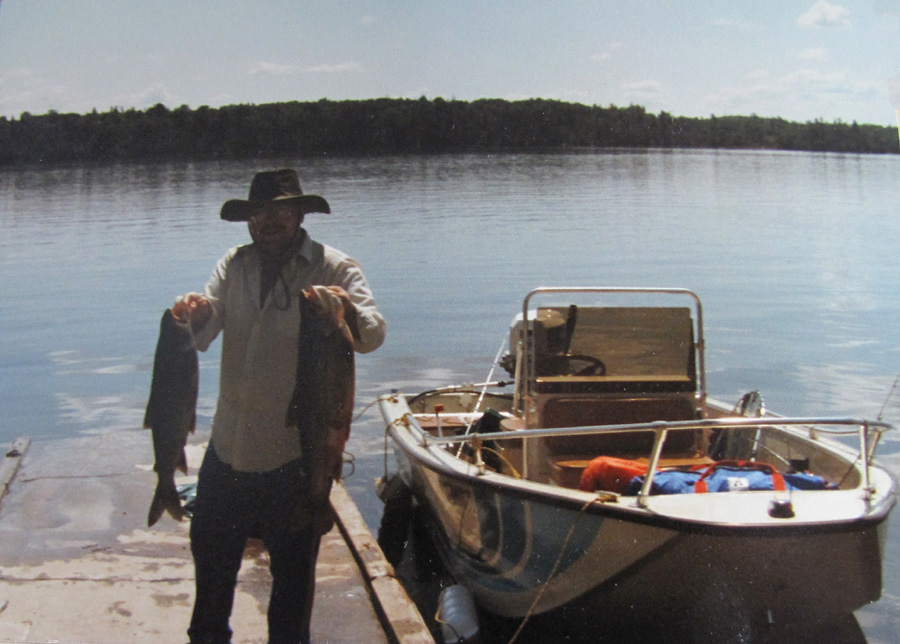 WE USED TO FISH AT CABONGA RESERVOIR IN QUÉBEC.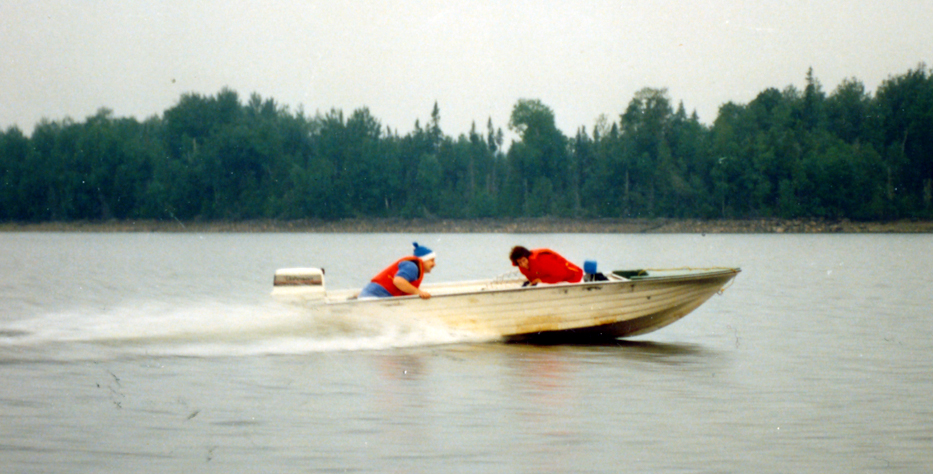 ONE DAY I WAS RACING MY BROTHERS BACK TO CAMP.
I HAD THIS BOAT AND MY BROTHER HAD HIS GRUMMAN 40 HP.
I BEAT HIM AS I COULD GO SHALLOW AND HE HAD TO GO DEEPER.
I WAS LAUGHING ALL THE WAY BACK.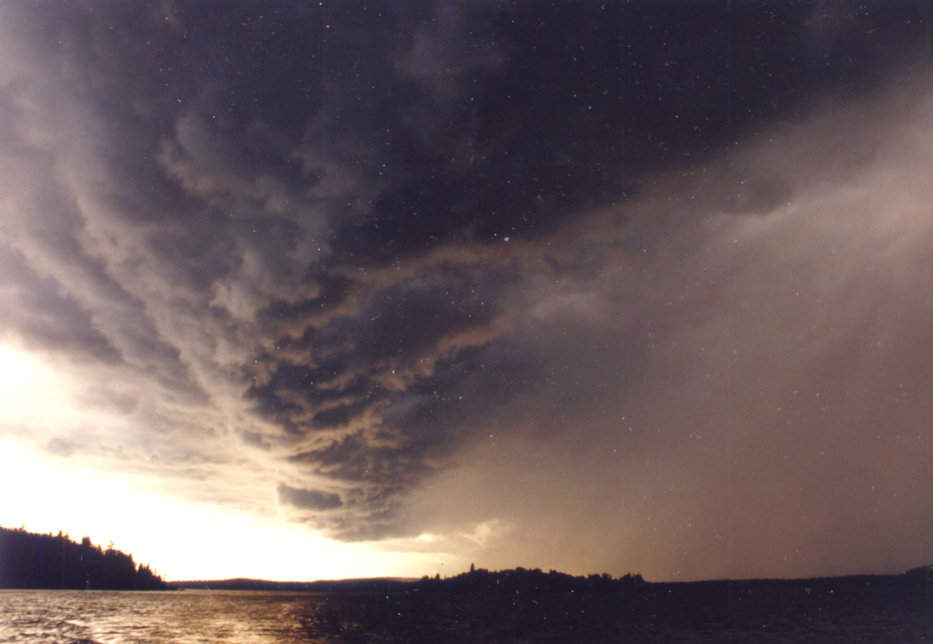 THIS IS ONE OF THE WORST STORMS WE EVER GOT CAUGHT IN.
WE WERE TROLLING ON THE SIDE OF AN ISLAND WITH A MOUNTAIN.
WHEN WE CAME AROUND THE OTHER SIDE OF THE ISLAND, WE SAW WHAT WAS COMING AT US.
IT WAS NOT FUN GETTING BACK TO CAMP.