DAVID'S VINTAGE SNOWMOBILE PAGE.
RESTORING THE SPORT ONE PIECE AT A TIME.
PAGE 25,599
---
1967 - 1968 - 1969
HUSTLER & RUSTLER SNOWMOBILES
THE DIFFERENCES BETWEEN THEM.
SCROLL ALL THE WAY DOWN.
TOO SEE ALL 3 YEARS
---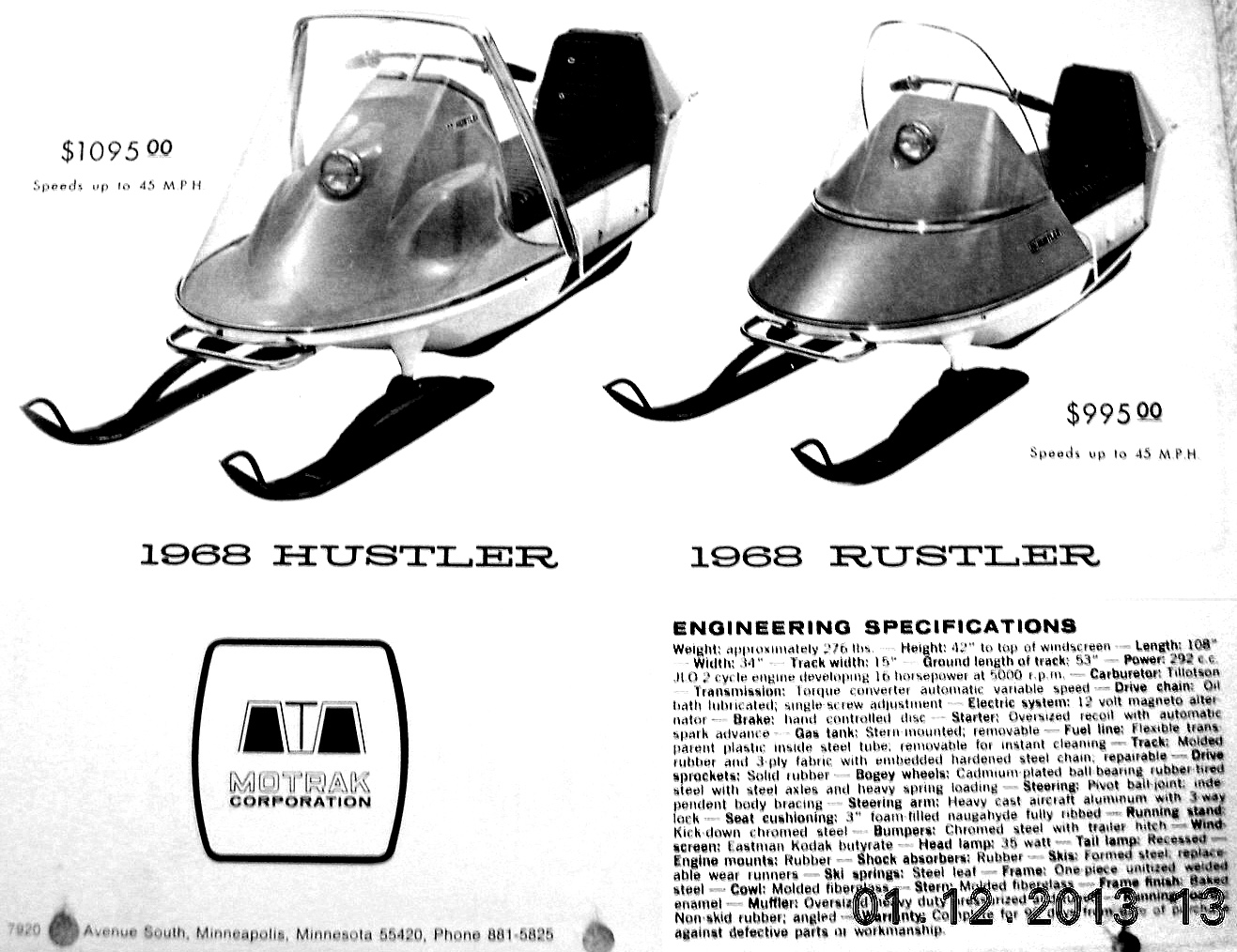 1967 HUSTLER + RUSTLER
SNOWMOBILES BY MOTRAK CORPORATION
NOTE:
IT SAYS 1968 MODELS
BUT
THESE ARE 1967 MODELS
I HAVE ADS FROM THE FALL OF 1966 SHOWING THESE MODELS.
IN THE FALL OF 1967, THE HUSTLER AND RUSTLER WERE DIFFERENT.
THE SHAPE OF THE HOOD ON THE 1967 HUSTLER IS
VERY DIFFERENT THAN THE 1968 MODEL.
CHECK THE PRICE LIST BELOW FROM NOVEMBER 15, 1966 FOR THE 1967 MODELS.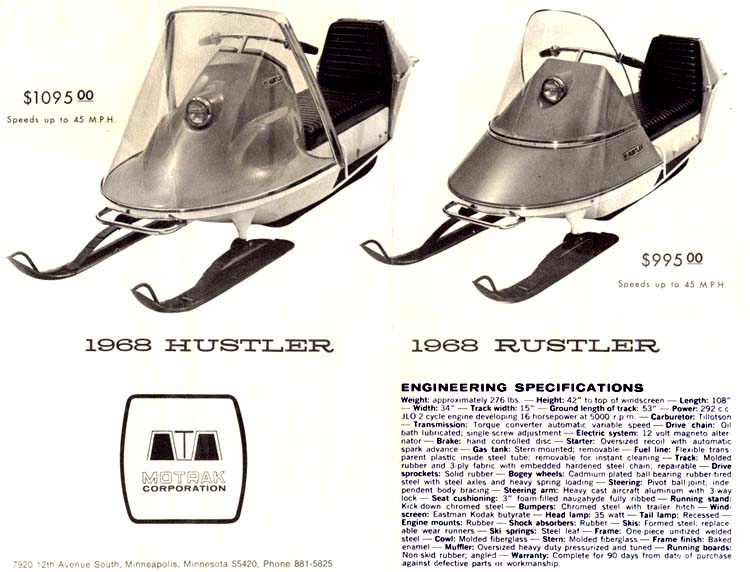 THE BLACK AND WHITE PICTURES ARE 1967 HUSTLER AND RUSTLER SNOWMOBILES
IT WAS A GIMMICK IN THE FALL OF 1966 WHEN THE 1967 SNOWMOBILE MODELS WERE ON THE
DEALER SHOWROOM FLOOR TO SAY THAT YOU COULD GET 1968 FEATURES NOW.
THIS PRACTICE WAS DONE BY HUSTLER, RUSTLER AND OTHER BRANDS THAT ALSO HAD A CONNECTION
OF HAVING THE SAME OWNER OF THIS SNOWMOBILE COMPANY.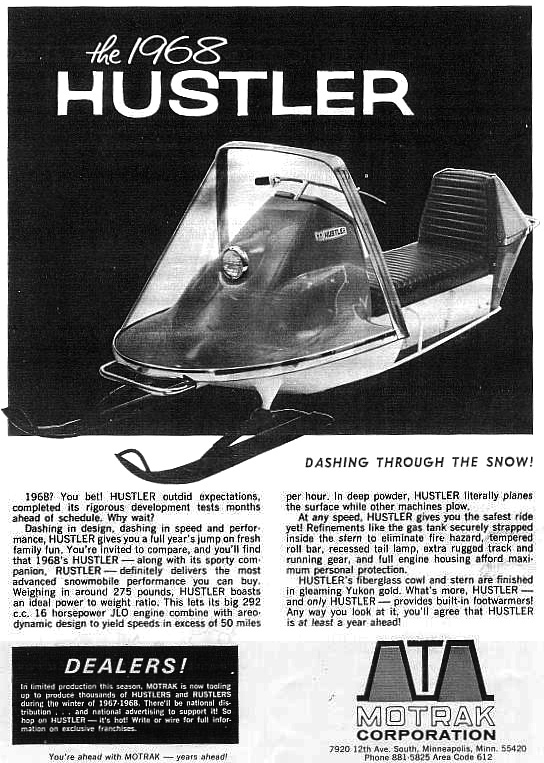 THE PRICE LIST IS DATED NOVEMBER 15, 1966.
THAT MEANS IT WAS FOR THE 1967 HUSTLER AND RUSTLER SNOWMOBILES.
1967 HUSTLER & RUSTLER SNOWMOBILES
---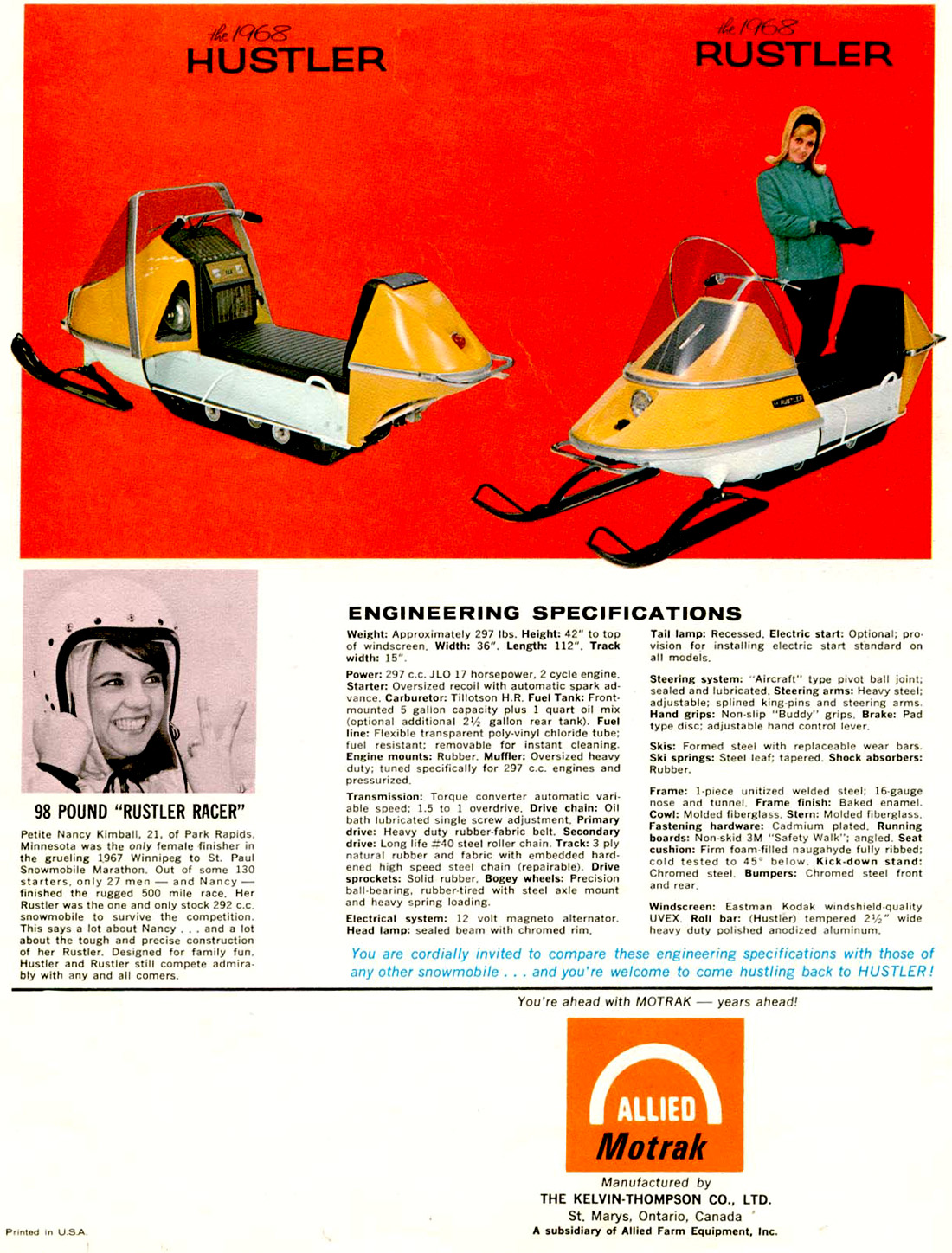 1968 HUSTLER & RUSTLER SNOWMOBILES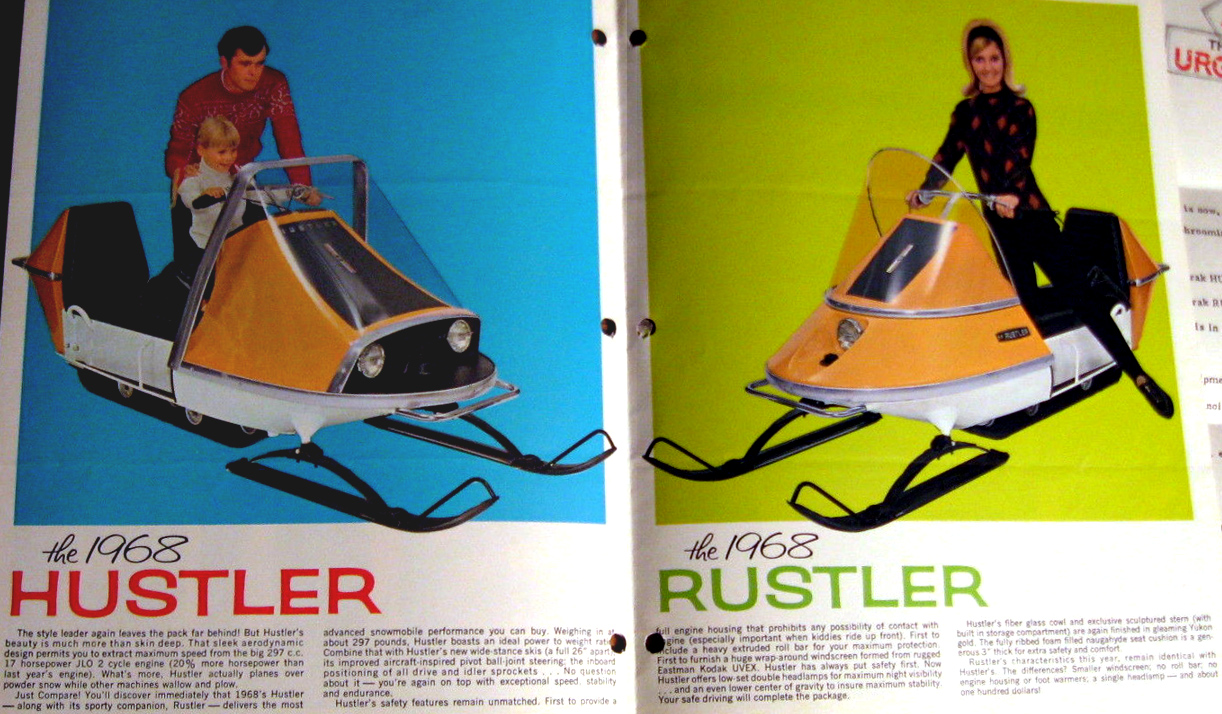 1968 HUSTLER & RUSTLER SNOWMOBILES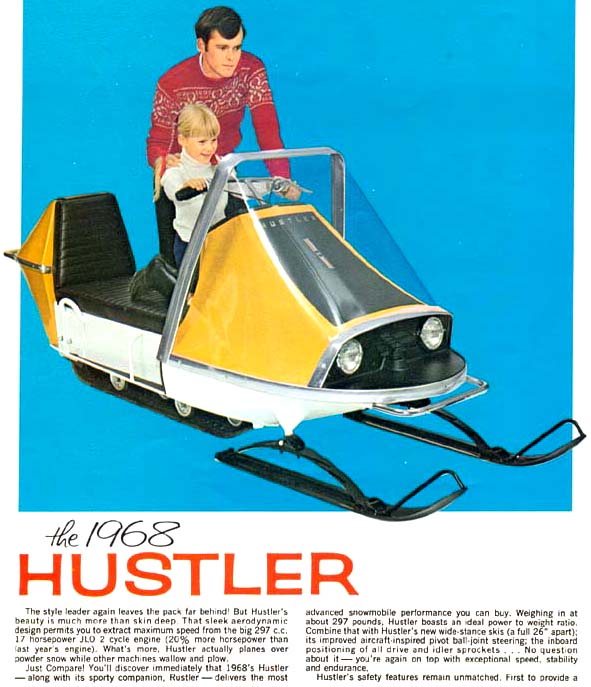 1968 HUSTLER & RUSTLER SNOWMOBILES
1968 HUSTLER & RUSTLER SNOWMOBILES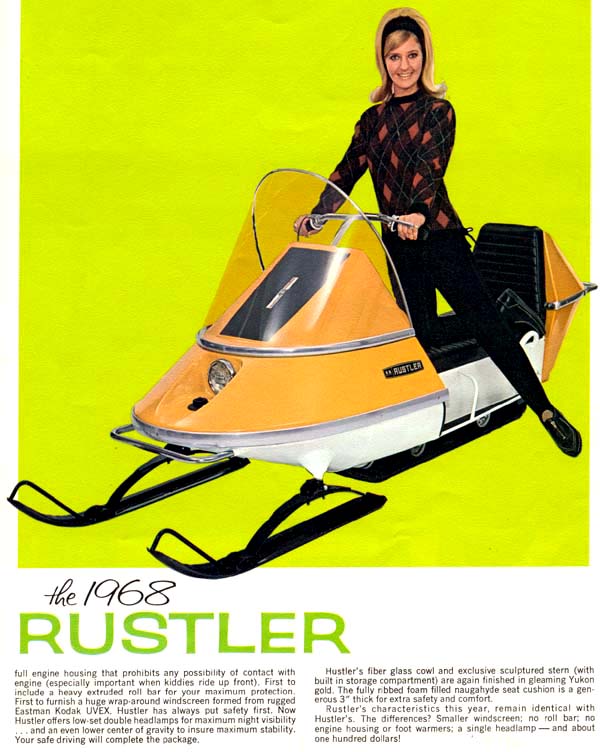 1968 HUSTLER & RUSTLER SNOWMOBILES
---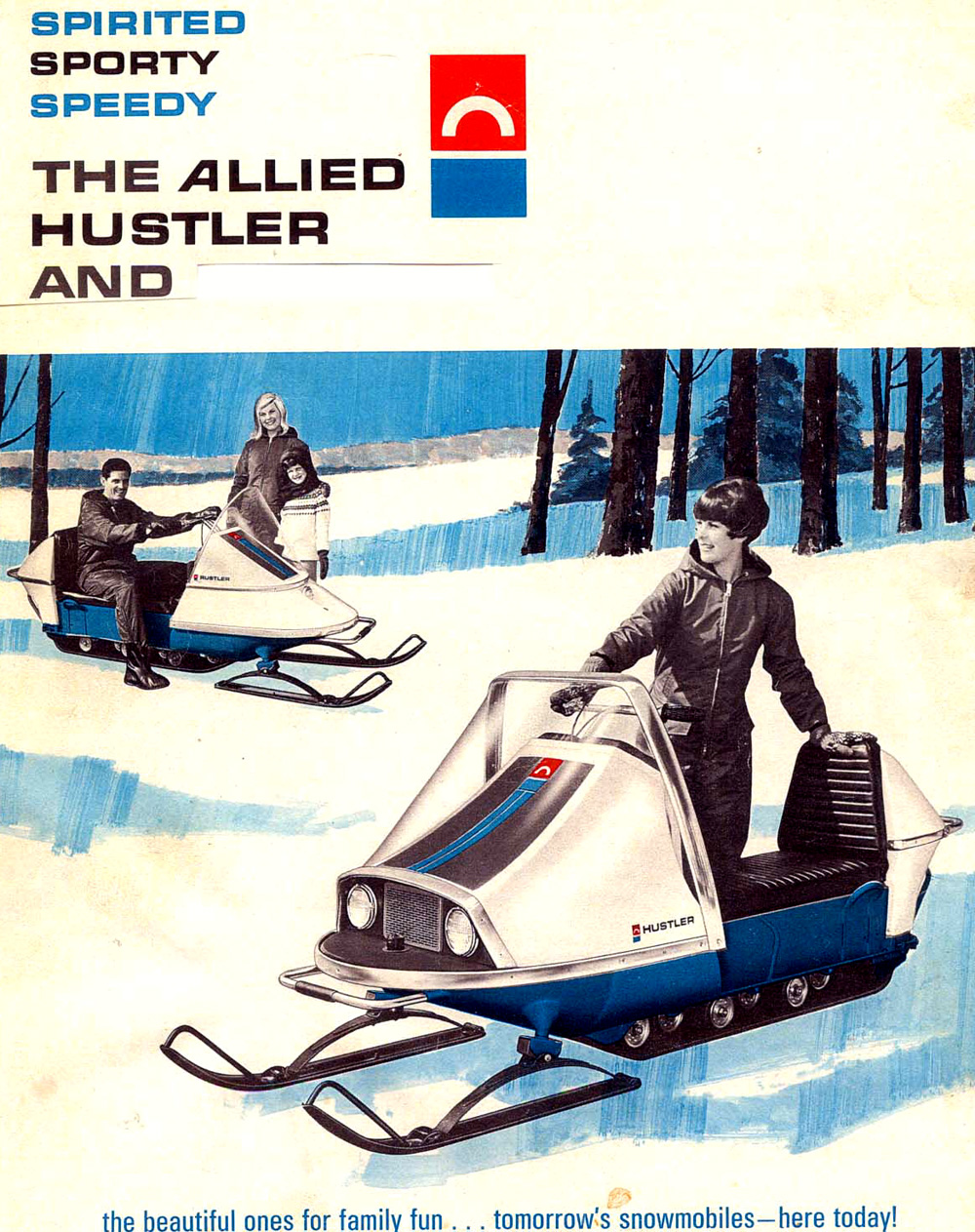 1969 HUSTLER & RUSTLER SNOWMOBILES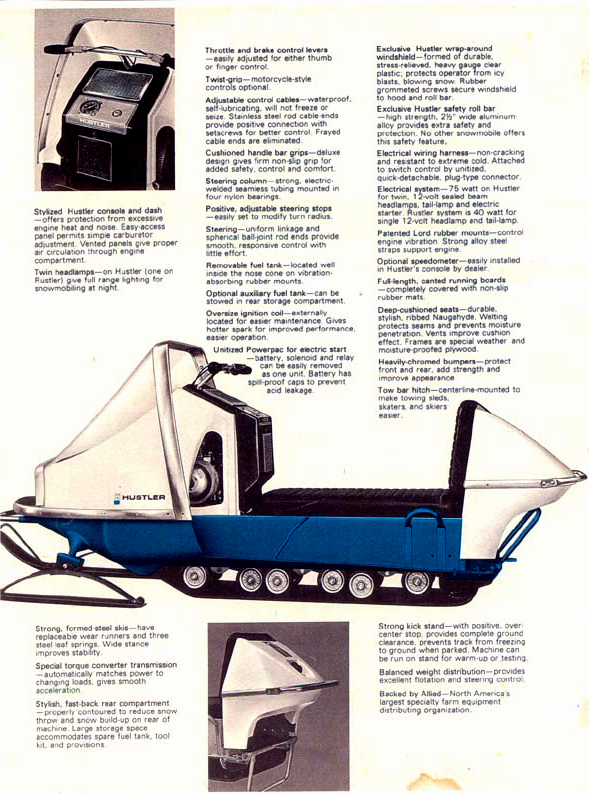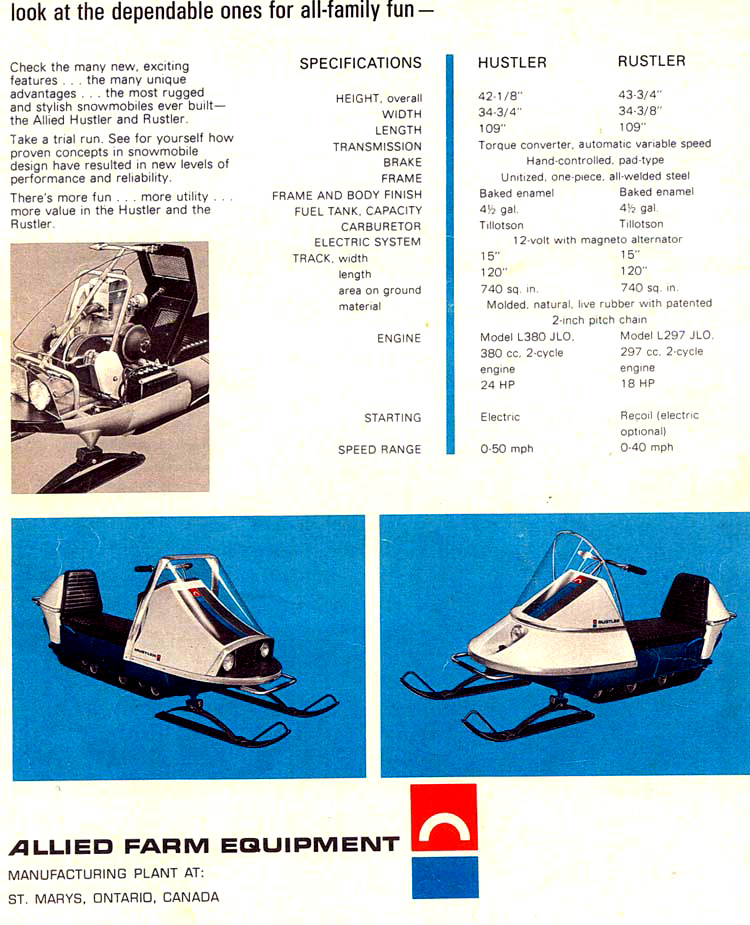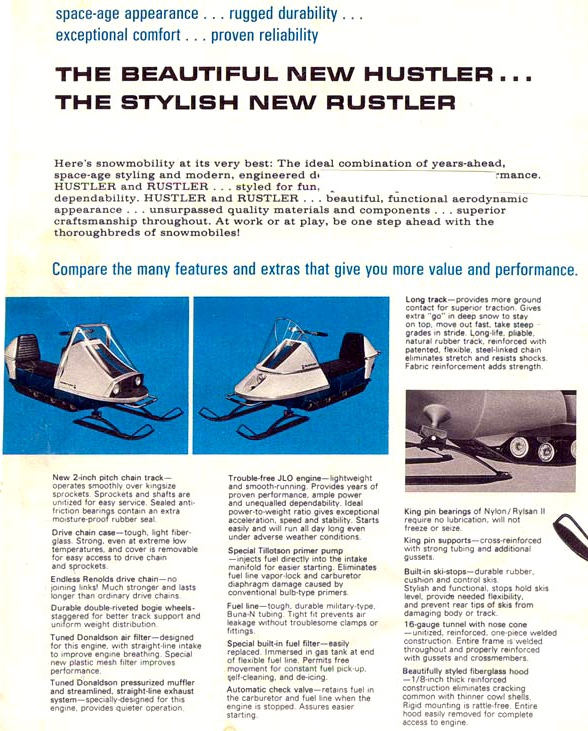 1969 HUSTLER & RUSTLER SNOWMOBILES