DAVID'S VINTAGE SNOWMOBILE PAGE.
RESTORING THE SPORT ONE PIECE AT A TIME.
PAGE 27,042B
---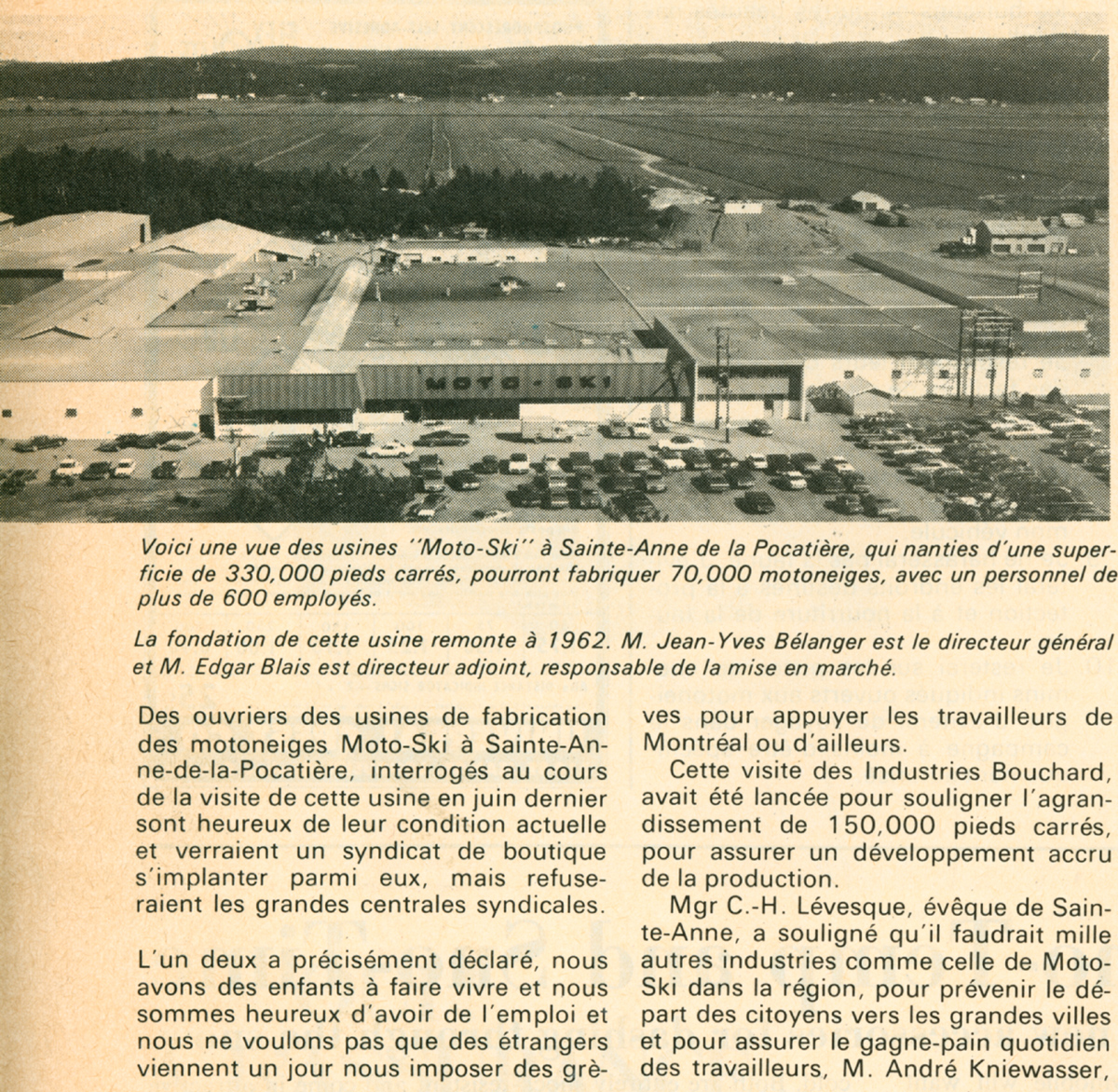 MOTO SKI SNOWMOBILE HISTORY
BELOW IS PART OF A TRANSLATION OF THIS STORY.
Here is a view of the "Moto-Ski" factory in Sainte-Anne de la Pocatière, which has a surface area of 330,000 square feet.
It can manufacture 70,000 snowmobiles, with a staff of more than 600 employees.

The foundation of this plant dates back to 1962.
Mr. Jean-Yves Belanger is the Director General and Mr. Edgar Blais is the Assistant Director, Marketing Manager.

This tour of Bouchard Industries was launched to highlight the expansion of 150,000 square feet,
to ensure increased development of production.

Mgr. C.-H. Lévesque, bishop of Sainte-Anne, pointed out that it would take a thousand other industries such as Moto-Ski in the region,
to prevent the departure of citizens to large cities and to ensure the daily livelihood of workers, Mr. Andre Kniewasser, Assistant
Deputy Minister of Industry and Trade, represented the federal government, and mentioned future grants for development and
research. Claude Simard, Minister of State for Industry and Trade, reminded the provincial government in a fairly relevant way that
the government he represented had made it a priority to create new jobs and that he intends to pursue this policy by all means.

Moreover, Mr. Marien Coté, president of Giffen-Recreation Ltd., who also controls Boa-Ski and Sno-Prince said the sales of the three
companies reached $ 31 million in 1969 compared to $ 14 million the previous year. In spite of this incomparable success, he did not
fail to point out the disastrous effects of the floating rate of the dollar which is in his opinion a blow to bear for an industry that exports
more than 55 percent of its production in the United States.

The snowmobile list prices have not changed and manufacturers have had to absorb the
value margin between the US dollar and the Canadian dollar at a loss.

Increased production
In 1963-1964, the production of 'moto-ski' which was 210 vehicles rose to 33,417 in 1969 and will reach 70,000 units in 1970.
In the same way the number of employees who was 16 rose to 675.

The workers will share this year, a sum of $ 2 million in salary.
The Giffen-Recreation group ranks second in the North American market, with 12 per cent sales of some 6,000,000 snowmobiles.

The Plant area has now grown to 330,000 square feet.